Above photo - some of the $25,000.00 worth of equipment donated so far! Thank you all so very, very much!!!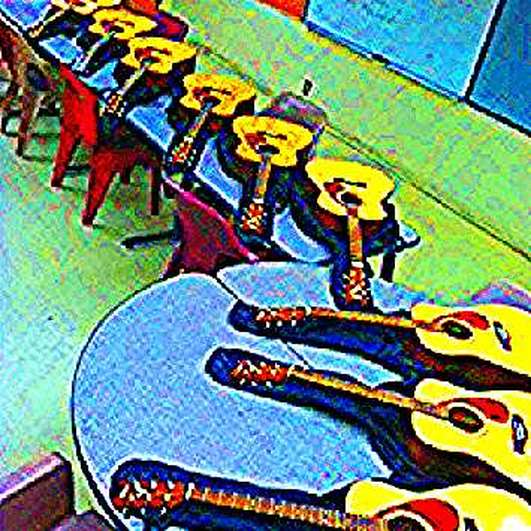 Photo Illustration "above" of 12 Yamaha Acoustic Guitar Kits
currently at the school of YDDC on Edith Street in Albuquerque, NM!
Thank you Governor Martinez and the State of New Mexico for purchasing them!

STUFF THAT WE NEED DONATED!
WE NEED EVERYTHING TO EQUIP 45 MUSIC & RECORDING ROOMS
AT THE LONG-TERM STAY YOUTH DETENTION CENTERS SCATTERED THROUGHOUT NEW MEXICO and TEXAS...
AVERAGE LENGTH OF STAY IS 3 1/2 YEARS!!!
OUR WISH LIST BELOW...

"We've finished, with "your" help, ten projects...
1.) The Youth Detoxification and Diagnostic Center
in Albuquerque, NM
2.) The Taos Youth Detention Center in Taos, NM
3.) The Santa Fe Youth Development Center
in Santa Fe, New NM
4.) The New Mexico Men's Recovery Academy
in Los Lunas, NM
5.) The High Plains Youth Detention Center
in Amarillo, TX
6.) The High Plains Transitional Youth Center
in Amarillo, TX
7.) The J.Paul Taylor Center
in Las Cruces, NM
8.) The McKinnley County Youth Detention Center
in Gallup, NM
9.) The San Juan County Youth Services Center
in Farmington, NM
10.) The Women's Recovery Academy
in Albuquerque, NM...
Now onward to our 11th Center!!!

Contact the above facilities if you're interested in teaching a Basic Acoustic Guitar Program!!!
​
We Need the Following...
• "Playable" New or Old Acoustic Guitars • Acoustic Guitar Straps
• Tuners with Extra Batteries • Acoustic Guitar Stands
• Acoustic Guitar Gig Bags • Medium Picks • Cleaning Cloths
• Humidifiers • Acoustic Guitar Teaching DVDs
​• $ Donations!!!

Any other basic percussion equipment!